We All Know Michael Hates Toby.......But Why?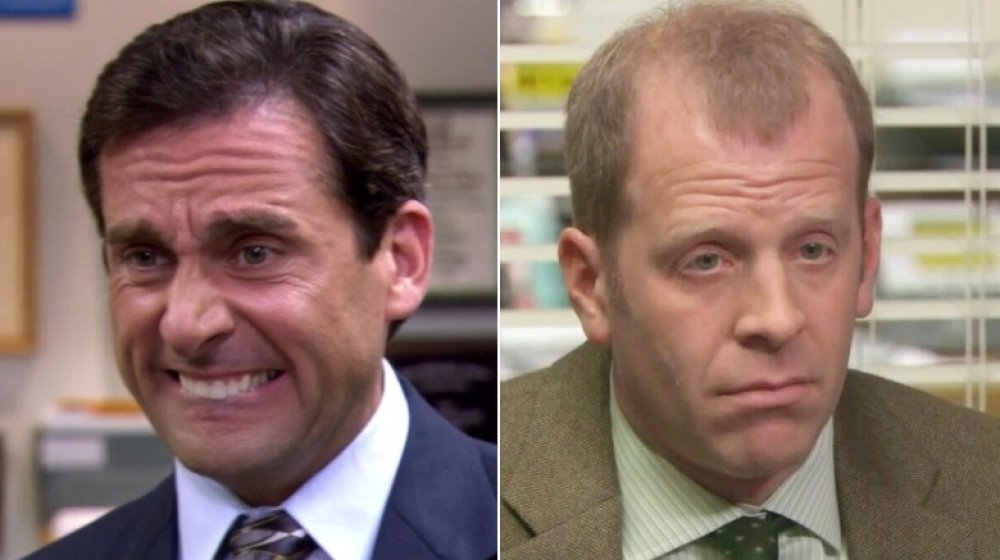 The Office is likely to come to mind when you think of the most popular television shows of the past few decades. Whether you've only seen a few episodes of the series or can recite the entire show from memory, it's easy to see why the show has remained a pop culture phenomenon for nearly two decades, with plenty of exciting running jokes throughout its run.
One of them, though, stood out from the rest. Michael Scott, Dunder Mifflin's Regional Manager, and Toby Flenderson, The Office's human resource representative, have a volatile and enmity relationship.
Ever wondered how much Michael Scott makes? See our article on Michael's salary.
Michael reveals his contempt towards Toby throughout the series. He shouts at him in meetings and tries to frame him for his dismissal, but do you know why Michael despises Toby so much?
Toby appears to be a polite, quiet, and friendly guy from the show's start. At Dunder Mifflin, he's probably the most excellent person, you'd think. Michael, on the other hand, despises him! We all have wondered why that is; why does Michael hate Toby Flenderson so much? Let's find out.
Source: https://officescreenshots.tumblr.com/post/86662549537
W
hy Does Michael Hate Toby?
Toby Flenderson worked as a Human Resource representative for the Scranton Branch, explaining why Michael Scott despised him. Michael describes him as a corporate employee who is permanently stationed at the Scranton branch.
Because he isn't an employee of the Scranton branch, Michael regards him as a combination of spy, traitor, and invader who is working on filing complaints against them with corporate. With a sneer, Michael says, "Toby is in HR, which technically means he works for corporate, so he's not a part of our family. Also, he's divorced, so he's not a part of his family ". On numerous occasions Michael threatened to fire Toby but could not do so due to this issue; Toby is officially a member of upper management. Michael could not bear the lack of authority.
Being a Human resource representative, Because of the majority of Michael's unethical practises, Toby is forced to address him about how corporate expects him to do his job. In the end, Toby and Michael reflect the conflict between employees and upper management.
Toby's job as an HR employee would essentially be to prevent Dunder Mifflin from making stupid mistakes, but as we've seen, he wasn't particularly successful in this regard. Toby has spent his entire career at Dunder Mifflin trying to do the right thing.
He's permanently halting talks before they go too far into the improper, and while his intentions aren't always what he wants, they're always there. He eventually gave up trying; when the topic of rectal things and their impact on Andy's impotence comes up, Erin asks Toby to intervene. Toby can only respond with, "Erin, HR is a joke. I can't do anything about anything."
Michael-Toby Relationship
In Michael's words, his job is to make office fun for everyone, while Toby, being a HR, his job is to make office lame for everyone. As self-absorbed as Michael is, he believes he is the life of the party/office, and Toby is typically the one who kills the vibe.
Toby's inability to go along with Michael's vibe is like a mirror held up to Michael. Nevertheless, Toby has always wanted to be included in every fun activity happening in the office as he doesn't have much of a life back home. Still, Toby never had such intentions. It reveals the truth that Michael has been avoiding for so long.
Source: Reddit
Michael has never missed an occasion to disparage Toby. He considers Toby to be his arch-nemesis. Michael had once said, "Toby Flenderson is everything that is wrong with the paper industry." He also once stated, "I hate so much about the things that you choose to be."
Michael has called Toby an "evil snail," "the worst human being ever," a "animal rapist," a "convicted rapist," "Satan," and "the Antichrist" on various occasions. Michael has also gone as far as saying, "If I had a gun with two bullets and were in a room with Hitler, Osama Bin Laden, and Toby, he would shoot Toby twice." Michael has also physically harmed Toby on several occasions, including throwing a pen at his face and checking him while skating.
In the "Stress Relief" episode, where Michael hosts a Roast show for himself in the Dunder Mifflin warehouse, everyone makes fun of him except Toby. When it was Toby's turn, and he tried to walk towards the stage, Michael immediately yelled, "NO! No, Friends only," emphasising that Michael does not consider Toby to be a friend. For him, he's just a Dunder Mifflin employee.
Even when Toby had returned from a disastrous move to Costa Rica and was continuing his duties as Dunder Mifflin's Human Resource representative, Michael chose to ignore Toby's existence and was already upset about Holly's transfer because corporate found out about their In-office relationship that he skipped going back to the Annex as it was too depressing for him, he never realised that Toby has returned after a few days and was shocked to see him after Jim mentions that he is back.
Watching Toby return was salt to his burns. He lost all his patience and started screaming at Toby. As he saw Toby back in the Annex, his exact words were, "NO, GOD! No, god, please! No! NO! NO! NOOOOOO!" and this is undoubtedly one of the funniest scenes in the entire show.
Micahel then devised a plan to terminate Toby and remove him totally from The Office. In the episode "Frame Toby," we can quickly see how deep his hatred and resentment for Toby is.
To defeat his foe, he sought to go to extremes. To frame Toby, he hid "drugs" in his desk. On the other hand, Poor Michael had no idea what the difference between marijuana and Caprese salad was.
Toby on occasions seems to want Michael's friendship but is too shy to say so. After telling Toby to keep Pam under control, Michael offers a hug to him and deems him a "good person" in"The Lover" episode. Toby displays his delight, believing that "Michael would like me once he gets to know me," but that never happened for Toby. Michael's hatred again comes over as soon as Toby fails to manage Pam.
Toby Was Despised By Everyone Who Rose To The Position Of Manager
Being the human resource representative, Toby was hated by everyone who became the Manager of the Scranton branch, even for a short period. When Jim Halpert became the co-manager, he also agreed with Toby being "The worst ."One time after being the co-manager, when Jim was discussing Michael's affair with Pam's mother and was frustrated to his core, he again shouts at Toby and says, "Not now, TOBY." 
Later in the show, when Andy Bernard becomes the Manager after Michael has left for Colorado with Holly, Andy says, "Now I know why Michael hated you so much," to Toby after he shot down his foolish notion in "New Guys ."Toby also appears to be in denial that Michael disliked him, as evidenced by his response to Andy's comment in this episode, "New Guys," to which Toby replies by saying, "No, he didn't," presumably implying that Toby doesn't consider Michaels abuses and remarks to be hate comments but just friendly banter.
Fan-Theory Why Michael hates Toby
Given that Toby is a divorced parent, his anger for him may stem from reminding him of his father, who abandoned him and her mother when he was a child. Toby could be the unlucky recipient of Michael's pent-up rage.
Michael Scott yearned for a happy family and his children, felt grudges against Toby for failing to make it work with his own family. Michael believes that because Toby is a divorced father, he is no better than his own father and is incapable of adequately raising his daughter. 
Some of the fans also believed that Toby was the real Scranton Strangler.
Conclusion
Fan theories can grow for decades, but according to Paul Lieberstein, wh0 worked on the show as both a writer and an executive producer, Steve Carell(who played the role of Michael Scott) approached him with this short part immediately after Toby steals Michael's joke that he was going to write in a coworker's birthday card in an early episode that never aired on TV.
In an interview, Paul Lieberstein remarked, "I just go in, write something quickly, and leave — that's the scene. But it took me a while to physically write it, and I could feel him watching me and feel that burning. Steve [Carell] told me afterward that it was at that moment that he just decided to hate me so much." 
The Office is a show about a not so normal everyday life of a person working in a paper company. The Office was removed from Netflix for a short while in 2021, but now it's back on the platform; you can watch it on Amazon Prime, Peacock TV, and Netflix.