Do You Know The Car That Dwight Schrute Drives?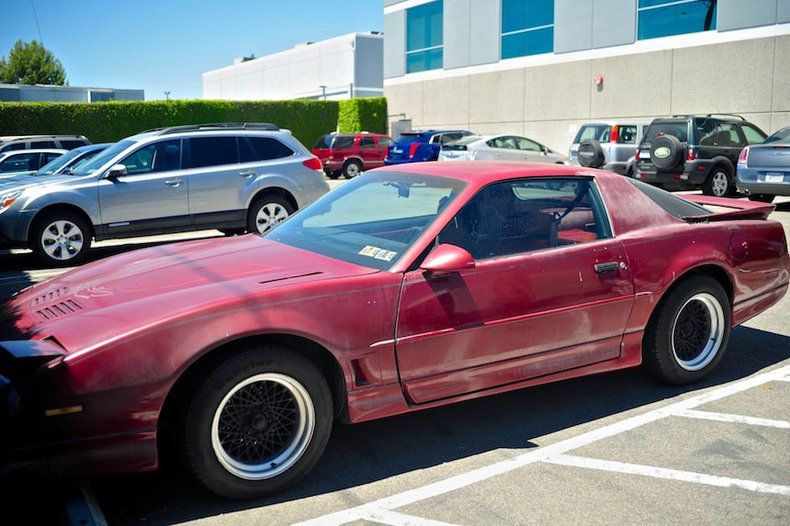 The Office has to be one of the most iconic shows between 2005 and 2013. It had strikingly relatable moments with charismatic characters, you'd never afford to forget. No wonder the show remains in many people's hearts to date. From Michael Scott, Andy Bernard, to Jim Halpert, they put up a decent show at Dunder Mifflin Paper Company.
But, we're sure of all these characters, Mr. Dwight Kurt Schrute III (Rainn Wilson) had an outstanding performance. 
Throughout the nine seasons, he portrayed a strong personality and once described himself as "alpha male, merciless, hardworking, insatiable." So fitting was his description that Dwight repeatedly attempts to get the Regional Manager position at Dunder Mifflin Scranton while still a paper salesman. During his screen time in The Office, Dwight drives a few cars. While we can't describe him as a car enthusiast, he seems to love the presence of an iconic ride. 
First Car
The first instance Dwight claims to own a car was in the first episode, where he mentioned that he bought and revamped a 1978 Nissan 280Z. Interestingly, the car doesn't appear in the show until the third season during the episode "Grief Counseling." But it looks as if there was a continuation error as the car in season 3 is a bronze 1979 Nissan Datsun 280ZX. 
The second automotive we see Dwight with is the infamous maroon 1987 Pontiac Trans Am hugely associated with Dwight's character. This vintage American muscle car premiered in the episode "The Fire '' in season 2, so we can safely say that he owned two or more cars. 
The maroon Pontiac Firebird was produced from 1967 to 2002 and portrayed as a competitor to Chevrolet Camaro, Ford Mustang, and similar cars. Mr. Schrute's 1987 Trans Am was Pontiac's third-generation release of firebirds which was highly fuel-efficient. The 5-liter V8 TPI engine charged the car from 0 to 60mph in 7.29 seconds, an impressive performance for its day. 
Apart from "The Fire" episode in season 2, we see Dwight's 1987 in various episodes across the show. Here are some iconic moments Dwight's firebird was featured in The Office. 
The Injury" (season two, episode 12) 
In this episode, Michael accidentally burns his foot on a Grill and calls The Office where Me Schrute hurries to help him. While on the move, he crashes his Pontiac Firebird into a pole giving him a mild concussion. He later shakes it off and continues with his mission to save Michael. 
"The Merger"(season three, episode 8)
When the two offices from Scranton and Stanford merged, the team had a hard time getting used to each other. We see Andy and Dwight trying to get at each other. Andy throws shade on Dwight's car, calling it a "dork mobile." Dwight retaliates and disses Andy's Nissan Xterra saying "Xterra's not even a real world." 
"Free Family Portrait Studio" (Season eight, episode 24)
After Dwight maliciously obtains baby Phillip's diaper to do a DNA test, he finds himself in a chase with Angela. Dwight decided to call his cousin Mose, who comes in an identical 1987 Pontiac Firebird Trans Am to throw off Angela and lose her. 
The final part where we see Dwight's car is a year after the end of the main show in a certain "documentary." Mr. Schrut is seen driving a 2012 Header Orange Dodge Challenger SRT8. 
What Car Does Dwight Schrute Drive In Real Life?
Now that you know Mr. Schrute's car possessions in The Office, have you ever thought if he had the same taste in real life? Well, he certainly has an indifferent taste, and it's the complete opposite of his character in The Office. 
Dwight Schrute owns a small electric BMW i3 featuring a dark two-tone paint of gray and black. It is certainly not the type of car you'd expect Dwight to drive in real life. Most fans, car experts, and critics would expect him to have at least a pickup, muscle car, or stick to his classic 1987 Pontiac Trans Am. 
While 1987 was a V8, the i3 seems somehow disconnected from the current world, almost like something from the future. Ironically, both the i3 and the 1987 firebird have similar performance figures. 
Frequently Asked Questions
Where is Dwight Schrute's car now?
In the 2009 season, Andy sells Dwight Schrute an Xterra owned by a hair stylist on the show in real life. After the car premiered in the "Did I Stutter?" episode, it was sold on eBay following souvenirs. There is scanty information on Dwight Schrute's 1987 Pontiac Trans Am. 
What is a Pontiac Firebird?
The Pontiac Firebird is an American manufacturing machine that was built and distributed by Pontiac from 1967 to 2002. It was first introduced on February 23, 1967, just a few months after Camaro was released. 
Why was everyone's car dirty in The Office?
Since the award-winning TV show was shot in California, the creatives had to make it look like the cars were based in Scranton, Pennsylvania. So, they intentionally painted the cars with the dirt during winter scenes and they'd offer a free car wash after the shoot. 
Do they actually drive in The Office?
Yes. The driving scenes in the office are genuine, including the part when they drove the car into a real lake. (Season 4, "Dunder Mifflin Infinity"). But it's common to see most films use props or a trailer to carry and move the car instead of the characters driving. In open vehicles such as convertibles, the crew may use a special tow car to pull the car which the actors are "driving."