Who Were The Office Warehouse Workers? A Closer Look At The Cast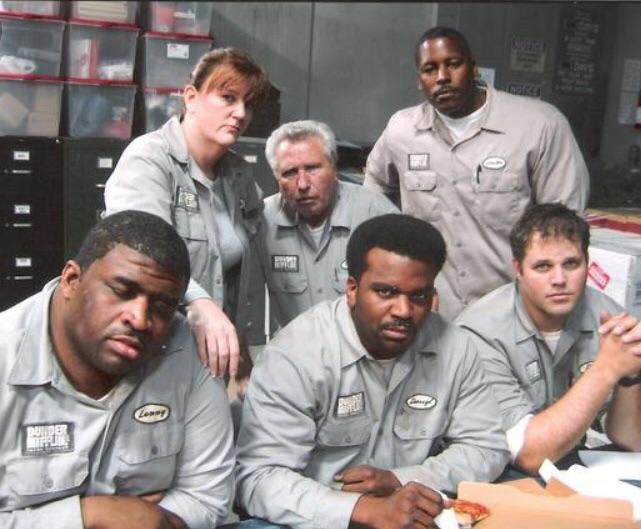 The Office has become one of the most adored TV shows of the previous few decades following its 2013 finale. Endless hours have been spent relaxing within Dunder Mifflin's weird, lovable, and humorous embrace.
The series, which is portrayed as if it were an actual documentary, chronicles the daily lives of office workers at the fictitious Dunder Mifflin Paper Company in Pennsylvania.
After winning the lottery, the warehouse employees decide to quit, leaving Andy Bernard Darryl Philbin (Craig Robinson) and (Ed Helms) scrambling to find replacements. At the same time, Erin Kemper (Ellie Kemper), Jim Halpert (John Krasinski), Kevin Malone (Brian Baumgartner), and Dwight Schrute (Rainn Wilson) get to experience life as warehouse workers.
If you want to know more about a few members of the warehouse crew and where they are now, keep reading!
Most Popular Warehouse Workers
In addition to these main characters in the series, there were a number of other warehouse staff that played an important role in the comedy series.
Glen
Glenn is a warehouse worker that actor Calvin Tenner played. In the series, he worked at a port and first appeared in the episode "Sexual Harassment," where he sees a sexual harassment film provided by corporate, and then returns in "Boys and Girls," when Michael organizes a class for all the male warehouse workers.
In the episode "Grief Counseling," Dwight tells Phillip and Glenn to sweep up the burned ashes after Michael arranges a cremation for a dead bird (which, in reality, reflects his grief over the recent demise of his former employer, Ed Truck).
He runs in Michael's Fun Run for Rabies in the fourth season's premiere and was the second employee to reach the finish line and later creates an energy drink company with Hidetoshi Hasagawa (Yakuza boss).
Tenner has mostly stayed on the small screen and he played Buntry in the 2018 USA series Unsolved: The Murders of Tupac and the Notorious B.I.G.  One of his most important roles, on the other hand, was not part of any series or film at all.
In an endearingly odd 2018 Geico commercial, Tenner portrayed a frantic father. He has also served as a stuntman on episodes such as "Ghosted" and "Brooklyn Nine-Nine" in addition to acting.
Phillip
Phillip Pickard, played by Craig Robinson, wasn't a new warehouse worker but is rather depicted as an old worker. He appears initially in "Basketball" and then again in "The Alliance." In "Boys and Girls," he is there when Michael delivers a lecture for all the male members of staff in the warehouse and is also seen in the warehouse on "Casino Night."
He also helps Glenn clean up the ashes in "Grief Counselling"  and is in the  deleted scene in "The Merger." 
Lonny Collins
Patrice O'Neal plays Lonnis "Lonny" Collins, who is a warehouse worker at the dock. He joins Darryl in open demonstrations of annoyance and intimidation directed at Michael. The character also became an outspoken supporter of Darryl's efforts to form a union, highlighting the low wages that he earns as a warehouse worker when compared to office workers.
He's most known for shouting at Michael after he completely destroyed the warehouse and also making fun of him in front of the office workers at Darryl's safety training course when he repeatedly disrupted the session with his pretentiousness. 
Check out the Best Of The Warehouse video below:
Other Popular Characters In The Cast
Michael Scott
Michael Gary Scott, played by Steve Carell, is the main character of the show, and for the first seven seasons, he worked as the Regional Manager of the company. However, in the fifth season, he leaves for a while to establish his own paper company with Ryan Howard and Pam Beesly. In the sixth season, he occupies a co-managerial position alongside Jim Halpert.
He proposes to Holly Flax, an HR worker, and leaves for Colorado to tend to her elderly parents at the close of the seventh season, handing the managerial position to Deangelo Vickers in "Goodbye, Michael."
The character also leaves the position to Andy Bernard in season eight, after Vickers' brain death, and finally Dwight Schrute in season nine. Michael makes his final appearance in the last season as an unexpected visitor at Dwight's wedding.
Carell earned widespread recognition for his role and was considered for the Primetime Emmy Award for an Outstanding Lead Actor in a Comedy Series six times in a row. He also won the Golden Globe Award for Best Actor – Television Series in 2006.
Angela Martin
Angela Noelle Schrute is a fictitious character played by actress Angela Kinsey in the American version of the comedy series. Sheila from the first season of The Office inspired her character.
She is presented as the Scranton branch of Dunder Mifflin's senior accountant, leader of the Party Planning Committee, and health and safety officer. Her character represents the branch's stiffer, more serious side.
However, in the second season, she has a secret romance with colleague Dwight Schrute, with whom she had a kid in the eighth season and goes on to marry him in season nine. 
This romance continues in the fourth season, even though she is betrothed to Andy Bernard, a businessman. She also had a brief relationship with Robert Lipton, the Pennsylvania State Senator, who was thought to be the father of her son, Phillip, at the time. Dwight referred to her as " Monkey " to ensure that their relationship was kept a secret.
Dwight Schrute
Dwight Schrute III, played by Rainn Wilson, worked as a salesman at the paper distribution company before being promoted to assistant regional manager and then the regional manager in the last season.
He also managed a bed and breakfast at Schrute Farms, where Dunder Mifflin Scranton is located, beginning in season seven. The character is famous for his social ineptitude and lack of common sense and his passion for martial arts and the legal system.
Jim Halpert
James Halpert is played by actor John Krasinski and is executive producer Greg Daniels' childhood pal.  He is also one of the few major characters in the series whose middle name is never disclosed.
The character is presented as a salesperson at Dunder Mifflin's Scranton branch in season three before being briefly transferred to the Stamford branch. He then becomes Assistant Regional Manager once the two branches merge and later becomes a co-manager with Michael.
Pam Beesly
Pamela Morgan Halpert, played by actress Jenna Fischer, starts as a secretary at the Dunder Mifflin paper distribution company, then progresses to a saleswoman and ultimately an office administrator before leaving in the finale episode.
Her personality is bashful at first, but she becomes forceful and artistically minded as the series progresses. She also has a romantic interest in Jim Halpert, and she begins dating him in season four. Later, she goes on to marry him and start a family.
Final Thoughts
The Office is an addictive comedy sitcom that still has fans reeling several years later. The characters are memorable and relatable, which has led to the success of this series. We hope you enjoyed learning more about the cast of this classic comedy series!
Frequently Asked Questions
Here are the answers to some of your most asked questions.
1. Which Warehouse Worker Gets Fired in the Series?
Michael was compelled to fire someone due to downsizing. Despite his initial attempt to terminate Creed, he persuaded him that Devon was an even worse employee and that he ought to be fired instead. As a result, Michael dismissed Devon, who was dressed as a beggar for Halloween.
2. Why Is The Office So Addictive?
It's more than simply brilliant one-liners and the Jim and Pam love tale that keeps people watching the series. The Office is a group production which implies that there are many psychological points of entry and emotional hooks to engage with in the show. 
In the framework of workplace conflicts and interpersonal interactions, people can identify with a wide range of scenarios.
To put it another way, the series is more relatable than other shows since you can be as familiarly bored as Jim or as annoyed as Oscar with your colleague's ignorance on any given day.